Sunday Worship Service
10:45 am
Summer Hours
10:00 am
Every one is Welcome!
For more info please Click Here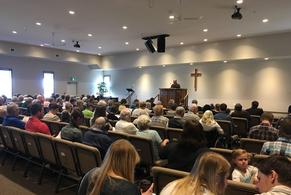 In the Bible we read "For where two or three are gathered together in my name, I am there in their midst" Matthew 18:20
Our Sunday Morning worship service begins with a few congregational songs, then the chairman will share the weekly happenings and announcements. Prayer requests are shared then a time of Prayer is held. We give opportunity to worship God through your financial gifts as we take an offering. We will usually have someone share a special number, whether it be a few songs or a poem or other reading or a children's story. A Bible reading and Bible Message will then follow with another Congregational song to close.
We invite all to come worship with us at 10:45 every Sunday morning! "And Let us consider how to stimulate one another to love and good deeds, not forsaking our own assembling together, as is the habit of some, but encouraging one another, and all the more as you see the day drawing near"  Hebrews 10: 24-25